Get the Toned, Flat Belly You've Been Working Toward
A tummy tuck, also known as abdominoplasty, is a cosmetic procedure designed to reduce excess fat and skin around the midsection when diet and exercise have not helped. Our team at Wirth Plastic Surgery offers Newport Beach tummy tuck procedures to patients who are seeking a tighter, flatter abdomen.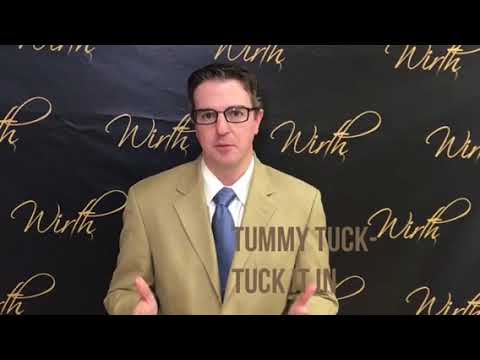 Am I a Candidate for a Tummy Tuck?
Pregnancy, significant weight loss, and aging can all contribute to a noticeable protrusion in the midsection area.
You may be a good candidate for a tummy tuck if you meet some of the following criteria:
You are currently at an ideal weight for your height
You possess good overall health
If female, you are finished having children
If weight loss is your primary goal, a tummy tuck procedure may not be right for you. If contouring of your abdomen is your goal, call for a consultation today. During your consultation with Dr. Wirth, he will be able to determine if you are an ideal candidate for a tummy tuck after a thorough evaluation of your aesthetic goals.
How Does a Tummy Tuck Work?
A tummy tuck procedure typically takes 3 or more hours to complete and requires general anesthesia. Dr. Wirth will make a strategically designed incision extending from hip bone to hip bone, contouring very low incisions down to just above the pubic area. A second incision may also be required near the umbilicus (navel or belly button) so that excess skin can be removed from the upper abdomen.
The skin is then separated from the abdominal wall so that Dr. Wirth can remove excess skin, fat, and tissue. Liposuction may also be performed to remove additional fat on the abdomen or flanks. The skin is then re-draped and the belly button is repositioned within the skin. Sutures, skin adhesives or clips will be used to close all incisions.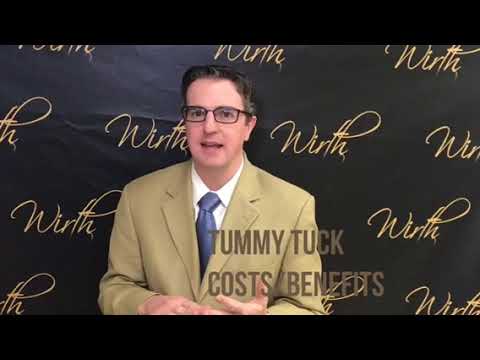 What are the different Types of Tummy Tucks?
Each Newport Beach tummy tuck (abdominoplasty) performed by Dr. Wirth is completely customized, as every person is different in what is required to create a more sculpted, fit, flat abdomen. Various surgical approaches are available, including:
Mini tummy tuck: This tummy tuck procedure has a shorter incision and can help people who want to firm and tighten the abdomen, with the problems below the belly button. Excess skin, fat, and tissue will be removed, with many stretch marks appearing in the area can be removed, partially or fully.
Standard tummy tuck: This surgical approach is necessary for people who have excess skin, fat, and tissue both below and above the belly button. The underlying muscles will be surgically tightened, and liposuction may be performed to further sculpt the figure. This procedure is often appropriate for older people, or those who have lost a great deal of weight and were left with excess, hanging skin, or after a pregnancy.
Scarless tummy tuck: A "scarless" tummy tuck is not completely scarless, but the incisions are far smaller. This is not a "tummy tuck" per se, but an endoscopic surgical repair of stretched abdominal muscles, or a treatment for what is termed diastasis recti, where the muscles appear split.
What are Patients
Saying?...
"I highly recommend Dr. Wirth for any procedure that requires the skills of a plastic surgeon that has the compassion of someone that sees you as a person and cares about your overall well-being. He is extremely knowledgeable with fierce plastic surgeon skills and that is evident in your first conversation with him. I have a flat tummy and curves again! I feel like Dr. Wirth really went above and beyond. He took all of the necessary steps to ensure my recovery would be successful and as easy as possible." –C.D.
View Testimonials
What Happens After a Tummy Tuck?
Dr. Wirth's Newport Beach tummy tuck surgery is typically an outpatient procedure; however, you may want to spend the first night of recovery in a prearranged care facility which is generally recommended by Dr. Wirth. Immediate results will be obscured by swelling and bruising for several weeks. You may need to wear an elastic garment for up to four weeks to reduce significant swelling. Pain can be controlled with prescription medication. As an aesthetic concierge practice, we can help you to create a plan for your transformation.
Recovery times vary greatly among patients, but in most cases, you should be able to return to work and other normal activities within two weeks of surgery. Strenuous activities, including rigorous exercise, should be avoided for at least 6 weeks. The results of a tummy tuck are permanent, but changes may occur due to factors such as weight fluctuations or aging. To increase the probability of high-quality, long-lasting results following tummy tuck surgery, it is important that you establish a healthy diet and exercise plan.
Are you ready to learn more about tummy tuck surgery in Newport Beach? To get started, call (949) 558-2133. When speaking with our office staff, ask to schedule a consultation for a tummy tuck.
Tummy Tuck FAQ
Can I combine tummy tuck with liposuction?
Liposuction is often an added procedure in a tummy tuck. Lipo is a very efficient way to remove excess fat on the abdomen and flanks, along with muscle tightening and removing excess skin to create the fit, slim look you envision.
What kind of anesthesia is used?
You may undergo this surgery under general anesthesia or intravenous sedation with local anesthesia.
When can I return to work?
If you work at a fairly sedentary job, you can expect to return to work in about ten days to two weeks, although some people may require longer. The more surgical corrections were performed, the longer it may take to completely heal.
When can I go back to my intense exercise program?
You will need to give yourself at least six weeks before returning to vigorous physical exercise, as these actions put stress on the recently tightened and repaired muscles.
How long do I need to wait to go back to yoga after a tummy tuck?
Yoga exercises can put stress on the repaired abdominal muscles. You do not want to cause problems for your newly sculpted abdomen, so must not return to yoga, or any other exercise that puts stress on the lower abdomen until give the okay by Dr. Wirth. Generally, this will be in about six weeks.
Can I drive home after surgery?
You will need to arrange someone else to drive you home. You will not be able to drive until you are off pain medication and a full range of motion has been restored.
Where will my scar be?
The incisions are placed carefully so they are hidden from view, even in low-cut bikini bottoms. The scar will run from hip to hip and around the belly button. These scars will fade with time and are not generally very noticeable once fully healed.
What will happen to my belly button in a tummy tuck?
If the corrections are extensive, and much skin, tissue, and fat removed, it will be necessary to move the belly button structure as part of your surgery. It will be placed appropriately so the entire abdomen.
Request a Complimentary Consultation
The First Step To Incredible Possibilities
*Results from surgical or non-surgical procedures will vary from patient to patient and are not guaranteed. All Rights Reserved. Privacy Policy