Get the Toned, Flat Belly You've Been Working Toward
A tummy tuck, also known as abdominoplasty, is a cosmetic procedure designed to reduce excess fat and skin around the midsection when diet and exercise have not helped. Our team at Wirth Plastic Surgery offers Newport Beach tummy tuck procedures to patients who are seeking a tighter, flatter abdomen.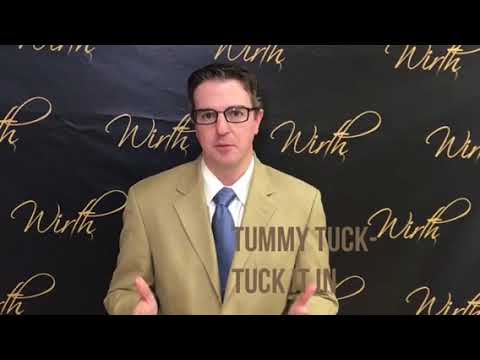 Tummy Tuck
Candidates for a Tummy Tuck
Pregnancy, significant weight loss, and aging can all contribute to a noticeable protrusion in the midsection area.
You may be a good candidate for a tummy tuck if you meet some of the following criteria:
You are currently at an ideal weight for your height
You possess good overall health
If female, you are finished having children
If weight loss is your primary goal, a tummy tuck procedure may not be right for you. If contouring of your abdomen is your goal, call for a consultation today. During your consultation with Dr. Wirth, he will be able to determine if you are an ideal candidate for a tummy tuck after a thorough evaluation of your aesthetic goals.
How a Tummy Tuck Works
A tummy tuck procedure typically takes 3 or more hours to complete and requires general anesthesia. Dr. Wirth will make a strategically designed incision extending from hip bone to hip bone, contouring very low incisions down to just above the pubic area. A second incision may also be required near the umbilicus (navel or belly button) so that excess skin can be removed from the upper abdomen.
The skin is then separated from the abdominal wall so that Dr. Wirth can remove excess skin, fat, and tissue. Liposuction may also be performed to remove additional fat on the abdomen or flanks. The skin is then re-draped and the belly button is repositioned within the skin. Sutures, skin adhesives or clips will be used to close all incisions.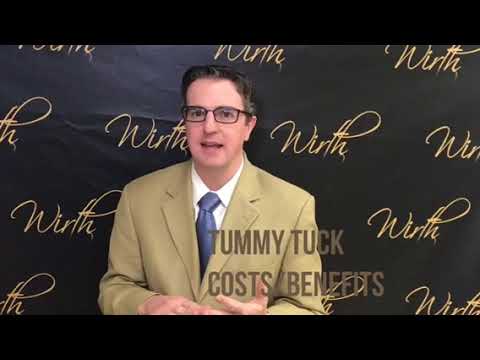 Tummy Tuck — Costs and Benefits
What Happens After a Tummy Tuck
Tummy tuck surgery is typically an outpatient procedure; however, you may want to spend the first night of recovery in a prearranged care facility which is generally recommended by Dr. Wirth. Immediate results will be obscured by swelling and bruising for several weeks. You may need to wear an elastic garment for up to four weeks to reduce significant swelling. Pain can be controlled with prescription medication. As an aesthetic concierge practice, we can help you to create a plan for your transformation.
Recovery times vary greatly among patients, but in most cases, you should be able to return to work and other normal activities within two weeks of surgery. Strenuous activities, including rigorous exercise, should be avoided for at least 6 weeks. The results of a tummy tuck are permanent, but changes may occur due to factors such as weight fluctuations or aging. To increase the probability of high-quality, long-lasting results following tummy tuck surgery, it is important that you establish a healthy diet and exercise plan.
Are you ready to learn more about tummy tuck surgery in Newport Beach? To get started, call (949) 558-2133. When speaking with our office staff, ask to schedule a consultation for a tummy tuck.
Request a Complimentary Consultation
The First Step To Incredible Possibilities
*Results from surgical or non-surgical procedures will vary from patient to patient and are not guaranteed. All Rights Reserved. Privacy Policy