Enhance Your Silhouette with Help from Our Orange County Surgeon
Ear surgery, also known as otoplasty or "ear pinning", is a procedure that can enhance your appearance by adjusting the shape, position or proportion of your ears. Dr. Garrett A. Wirth is a Board Certified plastic surgeon in Orange County with years of experience performing ear surgery. By giving your ears a more natural shape, Dr. Wirth can also bring balance and proportion to the rest of your face.
To learn more about whether a Newport Beach ear surgery may be right for you, call us today at (949) 558-2133. We can help you understand your options.
Am I a Candidate for Ear Surgery?
Ear surgery may be right for you if you have one or more of the following conditions:
Protruding ears on one or both sides, unrelated related to hearing loss
Macrotia (excessively large ears)
Dissatisfaction with the results of prior ear surgery
Ear surgery is a highly individualized procedure that can be elected for both adults and children who are at least five years of age. The best candidates will possess good overall physical and mental health, as well as realistic expectations of surgery. It is also important to note that this is a distinct surgery from earlobe repair surgery, which addresses damage or trauma to the earlobe. During your consultation with Dr. Wirth, he will be able to determine if ear surgery is right for your cosmetic goals.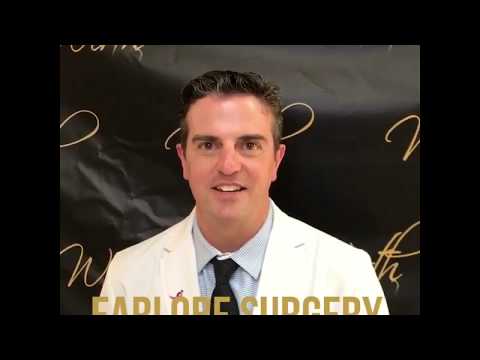 Earlobe Surgery
How Does Ear Surgery Work?
Ear surgery is typically performed in less than two hours and requires either local or general anesthesia, based on Dr. Wirth's recommendations. His surgical technique will vary depending upon what type of ear surgery you have elected. Once you have been sedated, Dr. Wirth will make a predetermined incision on your ear. Incisions are generally made on the back surface of the ear; however, if a frontal incision is required, it will be concealed within the natural folds of the ear.
Following incision, excess cartilage and skin will be trimmed or removed. Once the ear has been shaped to a more proportionate form, Dr. Wirth will place permanent internal sutures to create and also secure the newly shaped cartilage. Temporary sutures will also be placed to close incisions made to the external ear. Following surgery, bandages or dressings will be placed around your ear to aid in healing and to provide additional support to the ear's new shape and position.
What Happens After Ear Surgery?
Immediately following surgery, most patients experience a throbbing or aching pain in their ears, which may last for a few days. Dr. Wirth may prescribe pain medication to reduce discomfort. Recovery varies among patients, but most are mobile within a few hours of surgery. You will be required to wear bulky bandages around your head for the first few days, which will then be swapped for a thinner headband dressing. Temporary sutures will be removed within a week.
Dr. Wirth will provide you with personalized post-operative instructions for taking care of your ears after surgery. You may be required to apply a topical medication or take oral medications to aid in healing and reduce the risk of infection. You should be able to return to work and most normal activities within a week. Once the initial dressings or bandages are removed, the results of your ear surgery will be immediately apparent. You may have some scarring from surgery, but it will fade with time.
Wirth Plastic Surgery Can Help
Are you ready to learn more about ear surgery in Newport Beach? Call us at (949) 558-2133 to schedule your consultation.
Request a Complimentary Consultation
The First Step To Incredible Possibilities
*Results from surgical or non-surgical procedures will vary from patient to patient and are not guaranteed. All Rights Reserved. Privacy Policy