Garrett A. Wirth, MD
Garrett A. Wirth, MD is a Newport Beach plastic surgeon specializing in cosmetic breast, body, and facial surgery. He also has a special focus on breast reconstruction. As a plastic surgeon, Dr. Wirth is not the first to embrace the newest methods, nor is he the last to let go of the old ones. "I do what I believe works…and lasts; there are no shortcuts when it comes to plastic surgery," he says.
Solid planning from the start helps patients get the best results, and that's what Dr. Wirth insists on for you. "Whether it's the breasts, face or body, it's always about harmony and balance," he says; "you can't isolate one element from the others."
During breast surgery, Dr. Wirth wants each woman to feel beautiful and feminine, meaning she can wear the clothing she loves and remain proud of her body.
In facial plastic surgery, he says he can often set the clock back 10 or even 15 years, restoring a patient's appearance to a more youthful version. "I don't change faces; I rejuvenate them," he says. His techniques are highly refined and therefore require less downtime, with minimal bruising and swelling. "I want women to be able to resume their lives quickly, with little or no make-up after the procedures," he says.
Call our team today at (949) 558-2133 to learn more about how we can help you realize your vision.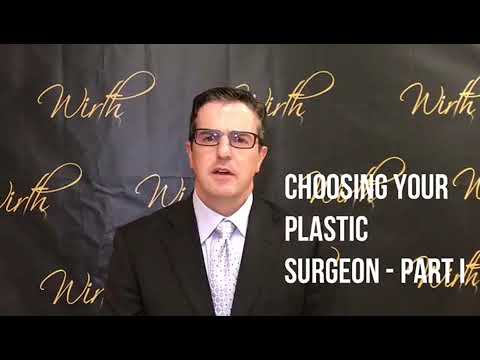 Choosing Your Plastic Surgeon, Part 1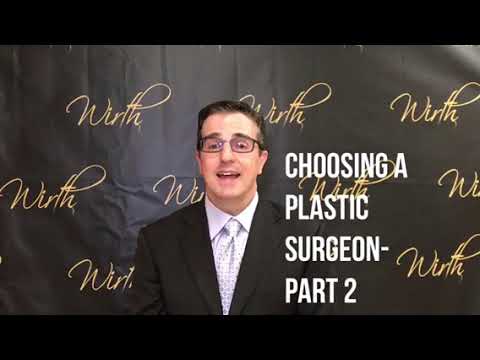 Choosing Your Plastic Surgeon, Part 2
Listening Comes First
During consultations, Dr. Wirth says he must be able to "repeat back to the patient" what she or he is looking for – no assumptions. "Then we are a team," he says, "so I can match the surgical technique to the patient's ultimate goal. Patients know that I'll take excellent care of them."
In addition to plastic surgery, Dr. Wirth performs a variety of non-invasive procedures for skin care, facial enhancement, and rejuvenation, such as lip enhancement, injectable fillers, fat injections, laser treatments, Botox® injections, and more.
"I can change one life at a time and it's an honor and privilege to work with people who put their trust in me," Dr. Wirth says. "It's a huge responsibility to enhance or modify a part of a human being. When a woman tells me her life has changed, that she wants to go out into the world more, and starts each day in a more positive mood – that's my joy."
Experience & Credentials
Dr. Wirth is Board Certified and a Diplomate of the American Board of Plastic Surgery. He is a Professor of Plastic Surgery (wos) at the Aesthetic and Plastic Surgery Institute at the University of California-Irvine Medical Center.
Dr. Wirth has a Master's Degree in Physiology and Cell Biology, a Doctor of Medicine degree from Albany Medical College, residency in general surgery and completed his training in Plastic and Reconstructive Surgery at the University of California – Irvine Medical Center.
Dr. Wirth remains on the cutting edge of his profession through his extensive academic and professional contributions to the field of plastic surgery. At UC Irvine, and around the world, he works to educate the next generation of plastic surgeons. He has also co-edited a plastic surgery textbook, and published articles in national and international surgical journals.
Dr. Wirth holds memberships in the following medical societies:
Board Certification Matters
In order to practice medicine in the United States, doctors must be licensed from the state in which they work. While this basic licensing requirement does provide a minimum threshold in terms of quality of care, it doesn't indicate whether or not a doctor is fully qualified and capable of working within a specific medical specialty.
The American Board of Medical Specialties (ABMS) provides a more detailed and rigorous certification process. Board Certification matters because it is the benchmark against which doctors can be judged. As a fully certified plastic surgeon, Dr. Garrett A. Wirth has demonstrated thorough knowledge and skill in plastic surgery. Because he successfully maintains his Board Certification in Plastic Surgery, patients can trust that his expertise is current and up-to-date and that he is providing the safest and most effective treatments that are currently available.
How Does Board Certification Work?
To become Board Certified, a doctor must earn a bachelor's degree, complete a course of study leading to an MD or DO degree from a fully recognized medical school, and spend three to six years working in a residency training program. Once these educational requirements have all been met, a doctor must then pass a challenging examination given by the specific Member Board in which the doctor intends to work. Plastic surgeons like Dr. Wirth must pass the examinations administered by the American Board of Plastic Surgery.
Even after becoming certified, doctors are required to maintain their certification by actively studying current healthcare advancements and participating in the ABMS Maintenance of Certification (MOC) program.
In particular, the ABMS MOC program focuses on the following:
Licensure and professional standing: In order to maintain Board Certification, doctors must be in good standing with the state in which they practice, and must hold all necessary state certifications and licenses.
Lifelong learning and self-assessment: Doctors in the ABMS MOC program are required to stay informed about advances in their fields by studying journal articles, attending classes or conferences, and taking online exams.
Cognitive expertise: Doctors must put their up-to-date knowledge to the test by performing well on rigorous written examinations, commonly called "the boards."
Practice performance assessment: From time to time, doctors who are Board Certified must have their performance evaluated through a series of patient surveys and doctor feedback. From these evaluations, doctors learn how best to improve the quality of care they provide.
What Does Board Certification Mean?
When a doctor is Board Certified, you know that he or she has undergone the rigorous training required to perform a challenging medical specialty like plastic surgery. You also know that your doctor has extensive hands-on experience. Because Dr. Wirth successfully maintains his Board Certification, his patients are confident in the care he provides, knowing that he meets the highest professional standards.
How Do I Know If My Doctor is Board Certified?
All doctors who are currently Board Certified are registered on the ABMS official website. Dr. Wirth is a fully certified, licensed, and currently a Board Certified Plastic Surgeon by the American Board of Plastic Surgeons practicing in Orange County, California.
To schedule a consultation, contact Dr. Wirth at (949) 558-2133.
Request a Complimentary Consultation
The First Step To Incredible Possibilities
*Results from surgical or non-surgical procedures will vary from patient to patient and are not guaranteed. All Rights Reserved. Privacy Policy